Many marketing organizations use HubSpot for marketing automation and content management.   HubSpot has also launched a CRM product called Sales Hub and we are sometimes asked "How is Leadsmart Channel Cloud different from HubSpot Sales Hub?".  
Before we get into the main differences between LeadSmart Channel Cloud™ and HubSpot Sales Hub™ it is important to point out that HubSpot was originally designed and developed as a Marketing Automation and Content Management platform.   The HubSpot Sales Hub CRM was added later as a means to position HubSpot as a product that services both marketing and sales teams.   HubSpot's background and core competency is marketing and content management (which they do very well).   In fact, LeadSmart Channel Cloud can easily integrate with HubSpot's marketing automation capabilities.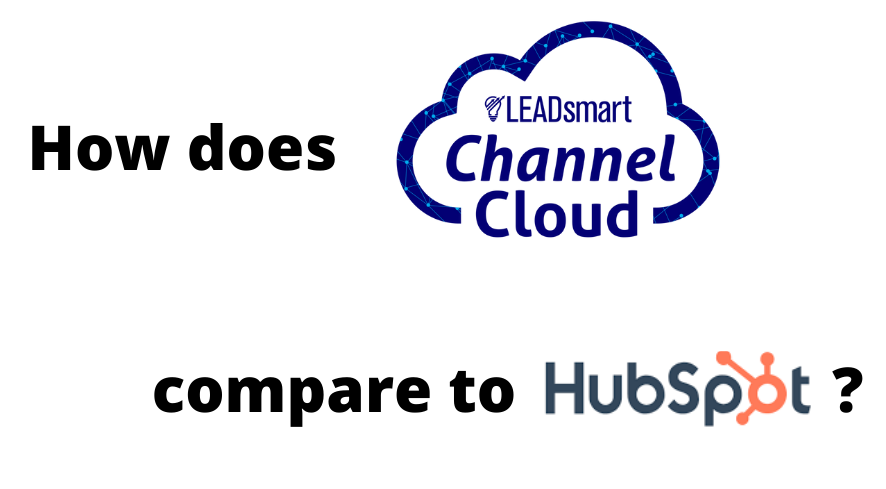 OK, now on to the comparison!   For purposes of this comparison we will use the Enterprise version of HubSpot Sales Hub.
Here are 5 key differences between LeadSmart Channel Cloud and HubSpot Sales Hub:
1.  Vertical vs. Horizontal Solution
LeadSmart Channel Cloud is a vertical, industry-specific CRM solution for distribution companies who sell through or participate in the "channel" including suppliers, manufacturers, wholesalers, sales agents, dealers and distributors.   Channel Cloud includes unique features and capabilities that are purpose-built for the specific needs of channel or distribution-related companies.  Going one step further, Channel Cloud has specific versions for manufacturers, reps/sales agents and distributors.   On the other hand, HubSpot Sales Hub is a "horizontal CRM solution" that was designed to be general enough to support virtually any industry and does not include any industry-specific features and capabilities.  While HubSpot has some customization capabilities, finding the right consultant to customize can be costly and time consuming and most consultants or partners do not understand your business.
2.  CRM Platform vs. add-on CRM Product
LeadSmart Channel Cloud is a "CRM platform" versus simply a "CRM product".   What this means is that Channel Cloud (as a Platform) can easily integrate with many other technologies in your business including ERP, data warehouses, marketing automation (including HubSpot!) and more.  The Channel Cloud platform also enables you to automate many CRM-related tasks, activities and workflows right out of the box.
Also, it it important to note, that LeadSmart Channel Cloud has been developed using the Salesforce Lightning Development Platform and we have a long-term and strong partnership with Salesforce.   Arguably, the Salesforce Platform is most the secure, safe, technologically-advanced and scalable cloud-based platform in the world which is one of the main reasons we selected the Salesforce Platform as the foundation for LeadSmart products. 
On the other hand, HubSpot Sales Hub is a "CRM product" that includes a basic set of CRM functions and capabilities.   It does integrate with HubSpot marketing automation to some degree but is not a true CRM platform like LeadSmart Channel Cloud.
3.  Visualization
HubSpot Sales Hub includes basic capabilities for building reports and contains a handful of pre-built reports and dashboards out of the box.  However, LeadSmart Channel Cloud takes these capabilities to a whole another level with Channel Cloud's "Visual CRM" capabilities.   The foundation of these capabilities are 7 pre-built, out of the box "centers" that provide a full range of visual dashboards, insights and analytics designed to help grow the business and achieve predictable revenue growth.  Each Center was designed and developed based on our experience and history working with manufacturers, sales agents and distributors.
4.  Channel Partner Collaboration
One of the primary things that makes the distribution industry so unique is the 3rd party partner ecosystem that drives the sales and revenue process.   Manufacturers sell their products via sales agents, reps, wholesalers, dealers and distributors, etc.  Reps and sales agents work with many different manufacturers, dealers and distributors as well.   LeadSmart Channel Cloud includes unique features that allow a manufacturer, sales agent or distributor to map and manage their partner ecosystem, as well as collaborate on leads and opportunities using the LeadSmart Partner Portal.  The LeadSmart Partner Portal enables 3rd party partners to collaborate in real-time with internal sales teams using their desktop and mobile devices.  HubSpot Sales Hub does not include these capabilities as the HubSpot solution was not inherently designed to support a 3rd party partner ecosystem.
5. Total Cost of Ownership
Per HubSpot's pricing, the Sales Hub Enterprise edition is priced at $120 per user.   This is significantly more expensive than LeadSmart Channel Cloud.
In addition, because HubSpot Sales Hub is a more general, horizontal solution, it can require quite a bit of analysis, process design and custom configuration in order to implement and deploy.   This process typically requires 3rd party consultants and can be can be very costly, time consuming and disruptive.   Because LeadSmart Channel Cloud is a purpose-built, industry specific solution we were able to create a modular, step by step rapid implementation blueprint that eliminates the need for costly design and process reengineering projects.   In addition, we can implement and deploy Channel Cloud in incremental, "bite sized" steps so that value and ROI is achieved as quickly as possible.
Last but certainly not least, LeadSmart offers an optional Marketing Automation solution called LeadSmart Engage which connects directly into LeadSmart Channel Cloud for sharing detailed marketing campaign and automation attributions.  By combining LeadSmart Channel Cloud with LeadSmart Engage, you can have all of the capabilities of a purpose-built CRM Platform along with sophisticated Marketing Automation capabilities in a single, affordable suite.
There are definitely more differences between LeadSmart Channel Cloud and HubSpot Sales Hub but the 5 areas listed above are the most relevant comparing the 2 products.
To learn more about LeadSmart Channel Cloud, set up a discovery call with our team today.