Given that LeadSmart is developed in partnership with and on the Salesforce Platform we are often asked by prospects and clients, "How is Leadsmart Channel Cloud different from standard Salesforce?".   Good question!   
Before we get into the main differences between LeadSmart Channel Cloud and Salesforce it is important to note that "Salesforce" is actually composed of many different products that include traditional sales CRM, customer service, marketing, e-commerce and many more.  For purposes of this comparison, we will focus on Salesforce Sales Cloud which is Salesforce's traditional sales CRM product.   
Also, just for the record, we love and have total respect for all the Salesforce products (and Salesforce as a company).   Like LeadSmart Channel Cloud, the Salesforce products are also developed using the same Salesforce Development Platform as their foundation and we have a long-term and strong partnership with Salesforce.   Arguably, the Salesforce Platform is most the secure, safe, technologically-advanced and scalable cloud-based platform in the world which is one of the main reasons we selected the Salesforce Platform as the foundation for LeadSmart products.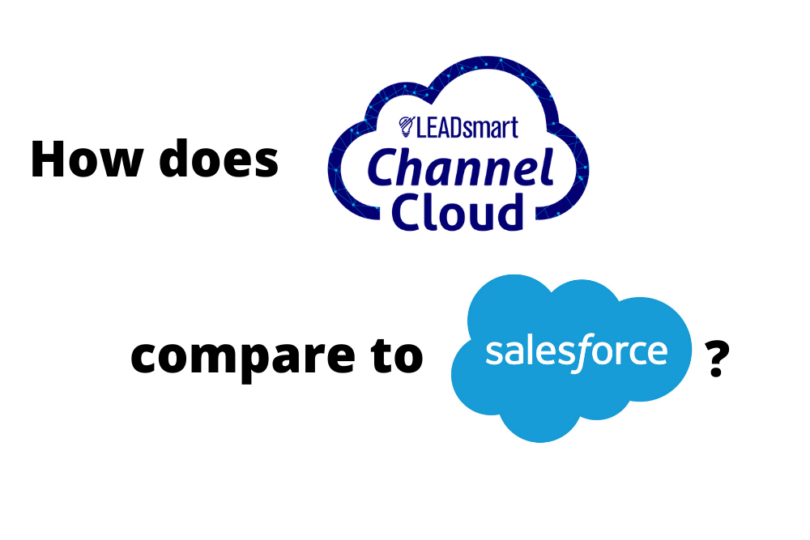 OK, now on to the comparison…   Here are the 5 key differences between LeadSmart Channel Cloud and Salesforce Sales Cloud:
1.  Vertical vs. Horizontal Solution
LeadSmart Channel Cloud is a vertical, industry-specific CRM solution for distribution companies who sell through or or participate in the "channel" including suppliers, manufacturers, wholesalers, sales agents, dealers and distributors.   Channel Cloud includes unique features and capabilities that are purpose-built for the specific needs of channel or distribution-related companies.  Going one step further, Channel Cloud has specific versions for manufacturers, reps/sales agents and distributors.   On the other hand, Salesforce Sales Cloud is a "horizontal CRM solution" that was designed to be general enough to support virtually any industry and does not include industry-specific features and capabilities.
2.  "Plug and play" vs. Custom Configuration
This point is closely related to #1.   Because LeadSmart Channel Cloud is a purpose-built solution, with a robust set of pre-packaged features and capabilities created specifically for the distribution/channel industry, it can usually be configured and implemented in a fraction of the time and cost of Sales Cloud and without heavy customization.   This "plug and play" capability significantly reduces risks, costs, implementation schedules and overall disruption to the organization while at the same time accelerates return on investment.
3.  Visualization
Salesforce Sales Cloud includes strong capabilities for building reports and visual dashboards but provides no pre-built reports or dashboards out of the box.   However, LeadSmart Channel Cloud takes these capabilities to a whole another level with Channel Cloud's "Visual CRM" capabilities.   The foundation of these capabilities are 7 pre-built, out of the box "centers" that provide a full range of visual dashboards, insights and analytics designed to help grow the business and achieve predictable revenue growth.  Each Center was designed and developed based on our experience and history working with manufacturers, sales agents and distributors.
4.  Channel Partner Collaboration
One of the primary things that makes the distribution industry so unique is the 3rd party partner ecosystem that drives the sales and revenue process.   Manufacturers sell their products via sales agents, reps, wholesalers, dealers and distributors.  Reps and sales agents work with many different manufacturers, dealers and distributors.   Anyway, you get the idea.  LeadSmart Channel Cloud includes unique features that allow a manufacturer, sales agent or distributor to map and manage their partner ecosystem, as well as collaborate on leads and opportunities using the LeadSmart Partner Portal.  The LeadSmart Partner Portal enables 3rd party partners to collaborate in real-time with internal sales teams using their desktop and mobile devices.  Salesforce Sales Cloud does not include these capabilities as the Sales Cloud solution was not inherently designed to support a 3rd party partner ecosystem.
5.  Rapid, Modular Implementation
Because Salesforce Sales Cloud is a more general, horizontal solution, it requires quite a bit of analysis, process design and custom configuration in order to implement and deploy.   This process can often take months or even longer and be very costly and disruptive.   Because LeadSmart Channel Cloud is a purpose-built, industry specific solution we were able to create a modular, step by step rapid implementation blueprint that eliminates the need for costly design and process reengineering projects.   In addition, we can implement and deploy Channel Cloud in incremental, "bite sized" steps so that value and ROI is achieved as quickly as possible.
There are definitely more differences between LeadSmart Channel Cloud and Salesforce Sales Cloud but the 5 areas listed above are the most relevant comparing the 2 products.
BTW, if you have already implemented Sales Cloud in your organization we also have a special LeadSmart product called LeadSmart Connect)which can be installed directly on top of your Sales Cloud installation and enables you to take advantage of LeadSmart's purpose-built features and capabilities in conjunction with Sales Cloud.   Yes, we think that is pretty cool!
To learn more about LeadSmart Channel Cloud or LeadSmart Connect, set up a discovery call with our team today.