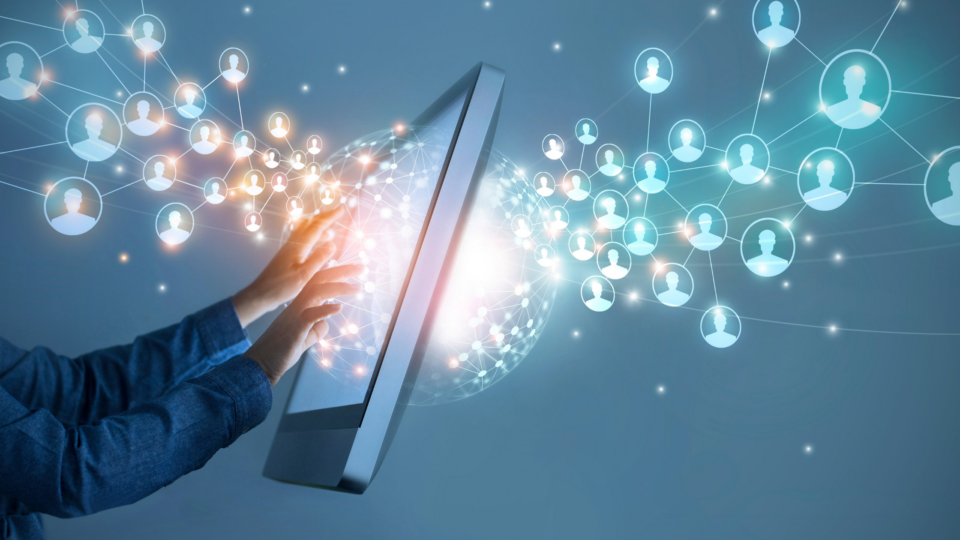 "1st party data",  "3rd party data"…  Until recently, these were terms that were only used and understood by digital marketing geeks and agencies.   However, now these terms are being tossed around in the executive suite, the board room and even on CNBC!  What does all this mean and, maybe even more importantly (at least we think so…), what does this have to do with CRM?   Here is everything you need to know…
1st Party Data vs. 3rd Party Data…
OK, I will try and keep this simple.   1st party data is essentially business and personal data you collect directly from your prospects and customers.   Examples of 1st party data would include:
Data from scanning a badge or a business card at a trade show or conference. 

Data from a form on your web site. 

Visitor data from your web site.

Customer and purchase information from your e-commerce web site.   

Data from quotes, purchase orders, orders, etc. 

Data from tracking a click on a link in an email you sent.
On the other hand, 3rd party data is data that is acquired from another web site or action outside of your organization that you then can utilize or have access to.  Most often, this data is acquired by third party advertisers like Microsoft, Google, LinkedIn or Facebook using web site cookies and tracking codes.  Examples of 3rd party data use would include:
Building targeted custom audiences on digital ad platforms such as "all people that like dogs" or "all businesses that sell hammers".   These audiences are being created for your use based on data that came from a 3rd party source.
Purchasing an email list for marketing.
Building digital ad campaigns using interest and demographic targeting (gathered from 3rd party cookies and data sources).
There is a bit more to all of this but these are the key fundamental differences between 1st and 3rd party data.
So, what's the big deal about all of this?
Billions of marketing dollars are spent each year building paid digital ad and other marketing campaigns that revolve around the use of 3rd party data.  Due to 3rd party data, virtually any business has been able to build and run successful ad campaigns that target very specific audiences.   Access to 3rd party data has radically changed the marketing landscape over the last 15 years. 
However, all of this is changing rapidly.   Apple, with their recent iOS releases, have made it very difficult for Facebook and other online platforms to gather 3rd party data.   Both Apple and Google have announced that soon they will no longer support 3rd party cookies on their browser platforms (Safari and Chrome respectively) creating what is being called a "Cookieless Future".   This is causing panic with many marketers and businesses that have relied on 3rd party data to drive their marketing campaigns and to get new leads and customers.   
Makes sense, but what should we do about it?
Good question!   The simple answer is that you have to treat your 1st party data with the respect and focus it deserves.  Specifically:
Track and log every piece of 1st party data that you have already and will acquire in the future.   This includes data from leads, prospects and customers including leads that may not even be qualified, leads that do not close and even prior customers that are no longer doing business with your company.   The more relevant 1st party data you track and log the better!
Organize this data so that it can be used to drive (and potentially automate) your future marketing campaigns, sales efforts and customer expansion activities.   This will require that you have the right CRM setup (more on this in a minute).
Once organized, utilize this data (and the related analytics that can be derived from this data) to drive marketing campaigns, qualify and drive sales opportunities and to help you sell more products and services to existing customers.  Again, this will require the right CRM setup.
We often find that companies that we work with are literally throwing away and wasting their 1st party data (even with qualified sales leads and customers) or worse yet, are not even aware of the 1st party data they have available.   Going forward, this is not going to be an option given the changes in the 3rd party data front and the "cookieless future".   The good news is that 1st party data, when tracked, organized and utilized correctly can achieve much greater marketing and sales results that can be achieved with 3rd party data.
How does CRM fit into all of this?  
CRM is an acronym for "customer relationship management" and there is a myriad of CRM products available on the market today.   Your company may or may not be using a CRM product but you are likely doing CRM activities of some sort even if you are just tracking sales leads and customers on a spreadsheet.   
The key to properly tracking, organizing and leveraging 1st party data is have the "right" CRM setup.    Most CRM products simply track Accounts and Contacts and their related activity.   However, in order to really track, organize and utilize your 1st party data you need a CRM setup that tracks all the 1st party "actions" that are occurring with Accounts and Contacts.   
For example, assume you have an Account in your CRM that is a prospect for purchasing your products or services.   Maybe they originally reached out to you on your website and requested a product sample or demo, then a couple weeks later they visited your booth at a major trade show and their badge was scanned.   A few days later they clicked on a link in your email newsletter about one of your new products.   Then they went to your e-commerce site and added a couple of products to the cart but never completed the purchase.   All of these "actions" are important 1st party data that need to logged and organized in your CRM and linked back to the correct Account and Contact.   
The problem is that most CRM products are not designed or setup to easily track and organize all of these "actions" and associate them with the proper Accounts and Contacts.
The LeadSmart CRM products address this challenge by tracking each action as a "SmartLead" that is linked back to the proper Account and Contact.   There can be an unlimited number of SmartLeads for any Account and/or Contact and these SmartLeads can then be linked to sales opportunities, purchases and more.   In addition, the LeadSmart CRM products include all the reports, analytics, automations and dashboards needed to utilize your valuable 1st party data to successfully drive marketing and sales efforts which is not possible with other CRM products.
But won't all this 1st party data create a mess in our CRM and lots of duplicate records?  
Great question – I am glad you asked!  The LeadSmart products include what we call a "SmartLead Firewall".   What this means is that any 1st party data that is loaded into the LeadSmart CRM (whether from your web site, email list, trade show list, etc.) is automatically scanned, evaluated and verified (using sophisticated duplicate checking algorithms) to ensure that no duplicates are created, that the data is properly associated with the right Account and Contact and that SmartLeads are automatically added with the relevant data associated with each "action".   This ensures that your data hygiene is constantly maintained and that your data is totally accurate (which is essential for successfully utilizing 1st party data).  
Great, so what is next?  
If you do not currently have a CRM product please contact us ASAP and we will get you going with LeadSmart CRM right away so that you can quickly start logging and tracking your 1st party data.   Then we can work with you on a plan and roadmap for how your sales and marketing teams can begin to access and successfully utilize this data and take full advantage of LeadSmart's CRM capabilities.   However, you will want to start logging, organizing and tracking your 1st party data ASAP so this is where we will want to start.
If you already using Salesforce for your CRM then you are in luck!   LeadSmart recently entered into a special and unique partnership with Salesforce that will enable existing Salesforce Sales Cloud users to install the LeadSmart SmartLead (and SmartLead Firewall) capabilities right into your existing Salesforce setup.  This can be done quickly and very affordably so please contact us and we can provide you more details.
If you are you currently using another CRM product other than Salesforce (such as Microsoft Dynamics, Epicor, HubSpot, etc.) then please contact us and we can let you know how we can best help.   LeadSmart has many integration options with existing CRM and marketing automation products so it is likely we can help you better track and manage your 1st party data.    And, if we cannot help we will definitely let you know and not waste your time.